KERALA FAIRS & FESTIVALS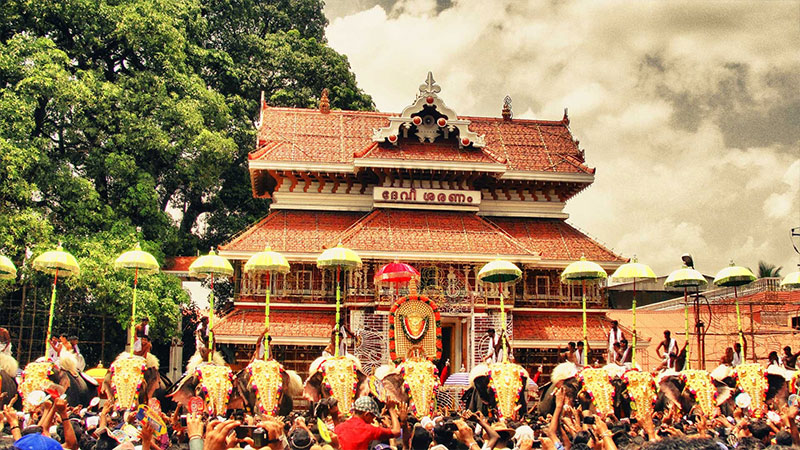 Aranmula Festival
alolsavams evoke the waves of enthusiasm in the minds of Southern Keralites. its history is flirting with, paddling with river gods
Down the years the boat race has accrued sporting value and tourism importance.
For ages, Keralites have cherished a reverential attitude to rivers. It is the apt time for Keralites to hold the Jalotsavam (water-carnivals). Boat race is in a way a display of physical might of the people who forget their differences in partaking of this sport.
The famous snake boat carnival on the Pampa, held annually at Aranmula on the day of Uthrittathi asterism, in connection with the Onam festival is to commemorate the crossing of the river by Lord Krishna on that day. The deity is supposed to be in all the boats that take part in the carnival and all of them are expected to arrive a t their destination simultaneously. There is thus no element of competition in the Aranmula Boat Race as in other regattas held in this district and elsewhere. The race is not conducted to win any trophy or prize. The crew regards the occasion as one for rejoicing and merry-making and cheerfully row up and down the river to the tune of songs.
The people of Central Travancore and special boats and buses ply to carry the people to witness the event. During the races, the banks of the river on either side, for a distance of about three kilometers, would be thronged with millions. In recent years, the festival attracts spectators from all parts of the world. The Valla Sadya is an important vazhipadu (offering) in the temple on this occasion.
The snake boats at the Aranmula regatta present an enchanting as well as imposing spectacle. They are of extraordinary shape. About 100 ft. long, the end of the boat is curving upwards with the front portion tapering gradually. The rear portion would be towering to a height of about 20 feet. The boats resemble snakes with their hoods raised. Crews of over hundred men vying to win the coveted trophy, attract spectators from all over. The occupants carry banners and ornamental umbrellas of silk and gold. It is doubtful whether there is any other national festival resplendent with such an aura of spiritual devotion, endearing friendship, sportsman spirit, majesty and rapturous delight as the Aranmula boat race.
Similar Snake-boat races are organized at Champakkulam and Paippadu in Kuttanad, the rice bowl of Kerala, during the Onam days.
Stay updated
Subscribe to our newsletter to get early notifications of our great offers and promotions!