Christian Fairs Festivals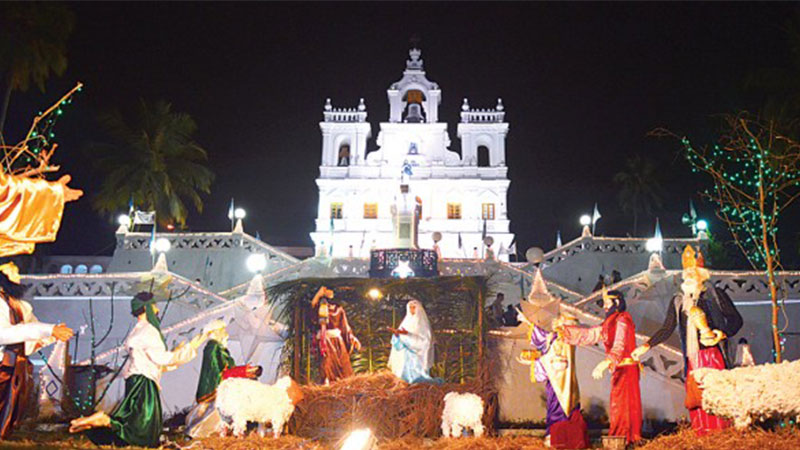 January 6:
Feast of the Three Kings at Reis Magos, Cuelim (Cansaulim) and Chandor.
February 2:
Feast of Our Lady of Candelaria at Pomburpa.
5th Monday in Lent:
Procession of All Saints of the Franciscan Third Order (only other besides Rome) at Goa Velha.
1st Sunday after Easter:
Feast of Jesus Nazareth at Siridao.
16 days after Easter:
Feast of Our Lady of Miracles at Mapusa.
21st August:
Festival of Novidades-offering of first sheaves of rice crop to the Head of State.
Monday of 12th to 18th October:
Fama de Menino Jesus at Colva.
(March/April)
Ramnavami:
It is celebrated in Partagal - Canacona.
3rd Wednesday of November:
Feast of Our Lady of Rosary at Navelim. This occasion draws thousands of faithful to Goa to participate in the religious event.
3rd December:
Feast of St. Fiancis Xavier, Patron saint of Goans at Old Goa.
8th December:
Feast of Our Lady of Immaculate Conception at Panaji and Margtio.
25th December:
Christmas, all over Goa with the customary Midnight Mass on gatherings and special Christmas Eve and with prayers gathering and special Christmas festivals. A Goan will leave his front door open during the festival as a gestures of generosity toward all who may visit his home.
Stay updated
Subscribe to our newsletter to get early notifications of our great offers and promotions!