Temples in Goa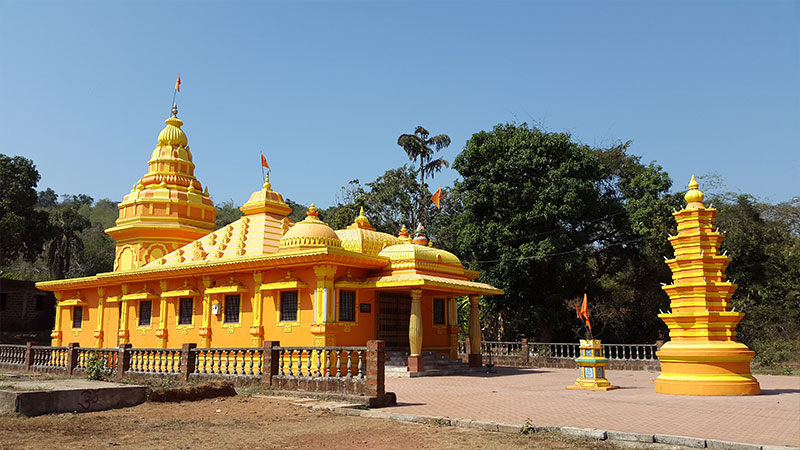 Temples in Goa
The temples of Goa are in essence like most Hindu temples in India, based around a deity which is worshipped. The architecture of Goan temples is a little different mostly because of historical reasons.
The fundamental design of any Hindu temple is organized around the central shrine or the "Garbagriha" or the "sanctum sanctorum" that houses the main deity. A tower or "Shikara" arises from the main shrine and is traditionally pyramidal shaped. There are usually two or more smaller shrines housing other deities known as "Parivar Devatas" around the entrance to the Garbagriha.
Shri Bhagavati Temple
The Temple, situated by the side of the main road, is said to be more than 500 years old. Two life size images of elephants in standing postition, made of black stone on either side at the entrance welcome the visitors.
The Goddess Bhagvati Asthbhuja in a standing position on a high pedestal, is very imposing. Dussehra is celebrated with gaiety from Ashwin Shuddha Pratipada to Poomima, when over 25 thousand devotees assemble at the temple.
Shri Manguesh Temple
22 kms. from Panaji.
At Priol-Ponda Taluka. It is located on a hillock surrounded by lush green hills. Though small it has an air of distinctive elegance. Its lofty white tower at the entrance is a landmark of the countryside. This is a temple dedicated to Lord Shiva.
Shri Naguesh Temple
Dedicated to Lord Shiva, is situated in the village of Bandode, about 4 kms. to the east of Ponda. The temple Sabhamandap has a gallery on both sides that contains exquisite specimen of intricate wood carvings of the events of Ramayana on one side and wooden images of Astadikpal and Gandharva on the other.
Shri Shantadurga (Kavlem) Temple
33 kms from Panaji
Sumptuously built at Kavlem, is dedicated to Shantadurga, the Goddess who mediates between Vishnu and Shiva. Has a rich and beautiful Garbhakuda or the holy of holies where the deity is kept. The deity was shifted from Kelsi. Agrashalas provide lodging facilities to the devotees.
Shri Shantadurga (Pemem) Temple
14 kms from Mapusa at Dhargal, Pemem
When all the temples in Barde; were destroyed by the Portuguese, this Goddess was removed at Sanquelim. It was at the time of the notorious Portuguese inquisition in Goa. Therefore, in 1550 A.D this Goddess was taken to Dhargal in Pemem Taluka which also formed part of Sewantwadi principality.
The 'Zatra' of this Goddess is held in the month of December. The temple has beautiful natural surroundings.
Topobhoomi Goa
33 kms from Panaji
Born under the divine inspiration of his Holiness Haturii Mathadhish Shrinad Brahmanand Swamiji, the Tapobhoomi Complex at Kundai has now become a center of pilgrimage to the students of Hindu culture and religion, spread over an are of 10,000 sq. mts.
This centre of Param Pujya Padmanabh Shishya Sampradaya harbaurs a number of projects, a unique Datta mandir, Sanskrit pathshala, Dhyaan Gumfa (Chamber for meditation), Ayurveda Centre, Yoga Anusandhan Kendra, Bhajani Vidyalayi Bhaktoddhar Library, etc. His Holiness Brahmanand Swamiji, who is the head of Haturii Muth has rendered yeomen service to uplift poor, downtrodden people in the last two decades.
Goddess is known for fulfilling the vows of her devotees through Kaul Prasad who also perform Tulbhar to propitiate her. While propagating the Bhakti movement in this holy land, he has salvaged poor and middle class from falling into the clutches of vices such as drinking, gambling, drug-abuse etc. It is solely because of Swamiji's guidance that thousands of young people have been able to-walk in the right direction.
Tapobhoomi has been set up to educate mankind about its duties and responsibilities. Tapobhoomi has been set up to spread the message of divine love and compassion. Tapobhoomi is indeed a temple of humanity, standing firm on the foundation of devotion i.e. Bhakti.
Stay updated
Subscribe to our newsletter to get early notifications of our great offers and promotions!