Hindu Festivals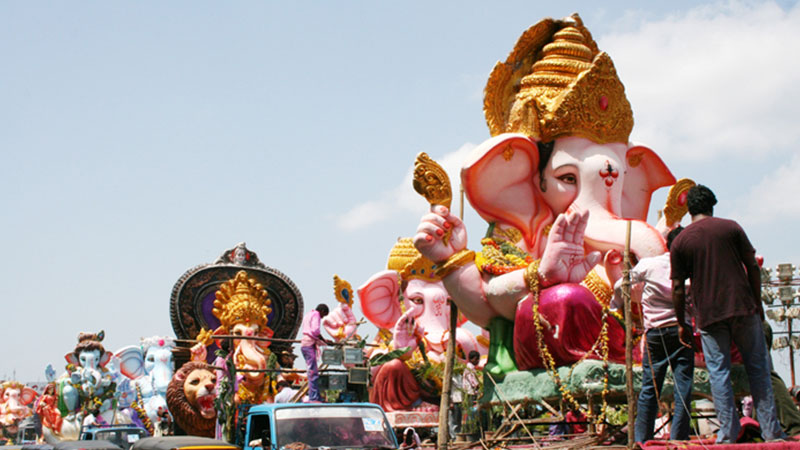 Temples in Goa

(January/February)
Mahashivratri:
A celebration in the honour of Lord Shiva held at all the principal Shiva templeIs, it is celebrated in Harvalem, Ramnathi, Kavlem, Mangueshi, Nagueshi, Shiroda, Brahmapuri. Shirgao, Kasarpal, Fatorpa and Panaji.
Rantha Saptami:
Mahalasa Jatra or Vijayarathotsav: (Chariot Festival) It is celebrated at Mahalasa Temple of Mohini in Ponda.
(February/March)
Shigmotsav:
It is celebrated in all over Goa. Special celebrations at Panaji, Mapusa, Vasco-da-Gama and Margao. A spring festival celebrated on the full moon day of the month of Phalgun in March.
It is a grand five day festival of colour, celebrated distinctively in the villages, corresponding with Holi or Spring Festivals. Shigmo is universally celebrated in Goa, but specially in Panaji, Mapusa, Vasco Da Gama and Margoa.
Ghodemodni:
Or Parade of the Horse Riders, is part of Shigmo and is found in Fatorpa and Bicholim. Hypnotic and rhythmic music of drums and Whistles accompany the martial dance, which Parades down the main street, imitating horses and their riders.
Rombat:
Takes place on the second and third day of Shigmo. It is a Procession of men in traditional dress carrying banners and umbrellas dancing to the music of drums. Young boys wave green twigs, signifying the arrival of spring.
Rangapanchami (Gulal):
It is celebrated in Kasarpal and Zambaulim.
Festival of Gade:
The three day at Mahadev Bhumika Temple attracts huge crowds.
Kalas Utsav:
It is celebrated on a major scale every alternate year at Sri Morjaee Temple in Pernem. Visitors from Maharashtra and Karnataka attend the seven day festivities which are socio religious occasions.
(March/April)
Ramnavami:
It is celebrated in Partagal - Canacona.
Chaitra - Pumirna:
It is celebrated in Borim, Sanquelim, Nagueshi, Chandranath, Cudnem and Mashem - Canacona. Gokulashtami: Narve - Bichblim. Ganesh
(April/May)
This is home coming season for many Goan settled away from Goa. It is also the fruit season and Feni making season. A distinctive Goan aperitif, Feni comes from cashew apples. In addition it is toddy- tapping season.
Chaitra - Pumirna:
It is celebrated in Borim, Sanquelim, Nagueshi, Chandranath, Cudnem and Mashem - Canacona. Gokulashtami: Narve - Bichblim. Ganesh
(May/June)
Mirg:
Mirg is on 6th June. It is the start of the Monsoon season. The Christian Mirg is one day earlier. If the rains fail, prayers are offered to the Catholic saints born this month-- St. Anthony, St. John the Baptist and St. Peter and St. Paul. In Goa there is happy mingling of festivals and feast days for the common good of all.
(July/August)
Gokul Ashtami:
Or Janamashtami is the Birthday of Lord Krishna. This marks the beginning of Goa's harvest festival. At Narve village in Bicholim, people gather for pilgrimage from far and wide.
(August/September)
Ganesh Chaturthi:
Birthday of Lord Ganesh, the most important deity in the Konkan, and is celebrated all over Goa. Thousand return to Goa for this festival, which is associated with good Harvest.
Novidade:
In each village, the first offering is is made to the church and the paddy specially blessed. No farmer, will harvest his rice crop before it is offered in a ceremony called 'Novidade' in which the parish priest himself harvests sheaf of rice and returns with it to the Church, Local people accompany him with music, fire works and Jubilation .
It is a true feast day for all. Women folk of Goa's earliest tribal settlers perform a dance called Bhandup in half second half of the month.
Navaratra Utsav:
or the nine nights festivals associated with Lord Rama's Defeat of Ravana, demon King of Lanka culminates in the grand festival of Dusshera. Dusshera is celebrated by devotees of the Mother Goddess as her festival. The Sri Bhagavati Temple is Pernem has a fortnight's festivities on the occasion. Special celebrations for Navaratra Utsav are held at Shantadurga, Nagueshi, Mahalakshmi and Ramnath Temples at Ponda and at Kalika Devi Temples in Kasarpal. The Dhangar Dance is dance of worship performed during this festival.
The Kiran Mahotsasv:
Or religious music festival takes place at Quepem in September and is an all night celebration.
(October/November)
Deepawali:
It is the great festivals of lights . It is universally celebrated in Goa, in homes, on the streets, in shops and of course, in religious places.
(November/December)
Kejagiri Purnima:
It can fall early in lights. It is the full moon following Dusshera. At Mardol in Ponda there are special celebrations to mark this auspicious day.
Malni Purnima:
It is the festivals at Sri Devaki Krishna Temple at Marcel.
Zatra:
The deity is taken out of the temple in a colourful procession for the day. The annual Zatra of Shri Shantadurga at Kunkoliemkarin at Fatorpa in Quepem also falls in this month. Thousands flock to attend the festival from afar. Zatra in all Temples, of special importance being at Mangueshi, Nagueshi, Ramnathi, Kavlem, Madki, Kundai, Shiroda, Khandepar, Borim, Kapileshwari, Mulgaon, Fatorpa, Amona, Mashel, Mala-Panaji, Mapusam, Velinga, Karmali, and Calangute.
Datta Jayanti:
It is celebrated as the annual festival at Shri Datta Temple at Dattawadi,Sanquelim. usam, Velinga, Karmali, and Calangute.
Stay updated
Subscribe to our newsletter to get early notifications of our great offers and promotions!