KERALA FAIRS & FESTIVALS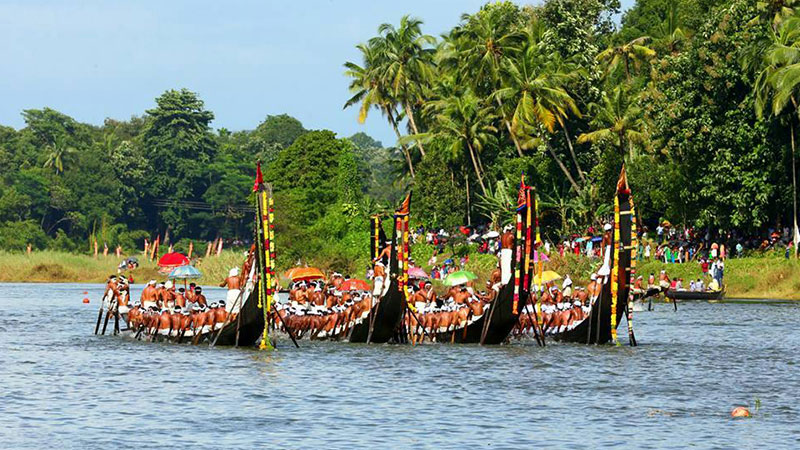 Onam Festival
Kerala's most important festival, honouring King Mahabali, a mythological king of ancient Kerala, whose period was reckoned as the golden age in the history of the state. He was the embodiment of virtues, goodness, so was his regime which was marked by equality and harmony among people.
The golden age was abruptly ended when Mahabali was unseated by Vamana, the dwarf incarnation of Vishnu. However, Vamana was lenient to accede Mahabali's request that he be permitted to visit the land and his people once a year. The time allowed for the visit was the 10th day in the month of Chingam, ( first Malayalam month, August-September). His visit is celebrated as Onam which sync with the harvest season in Kerala.
The 10-days festival is supposed to begin from the lunar asterism Atham and culminate in asterism Thiruvonam.
Onam is marked by festivity. Keralites bash up the day. Flower carpet is being prepared in the front yard of every house. Special prayers are offered in temples. Delicious dinner is the USP of Onam celebration. Traditional food is served on plantain leaves. An emotional string is attached to this festival since Keralites living elsewhere in the world make it a point to reach their native place to join the gala.
The State Tourism Department has arranged several programmes to tap the tourism potential of the season. A snake boat race is organized in Alappuzha Punnamada lake. State's ethnic art forms are being presented in all important towns in the state during the festival.
Stay updated
Subscribe to our newsletter to get early notifications of our great offers and promotions!