KERALA FAIRS & FESTIVALS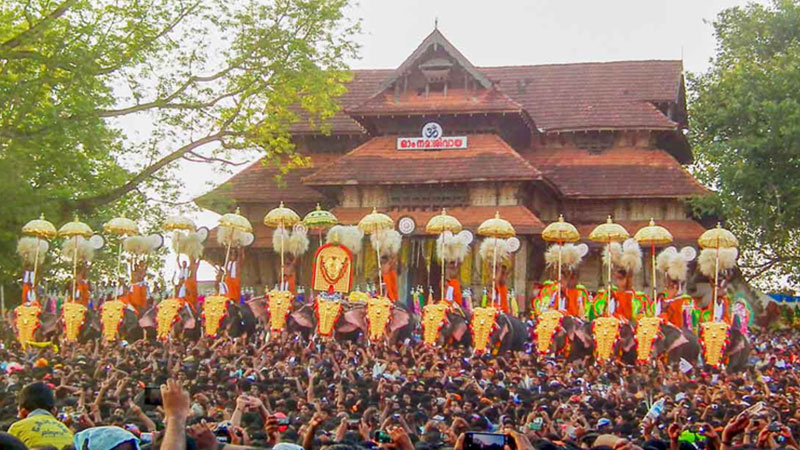 Thrissur Pooram Festival
The most spectacular spectacle in the state. This festival was introduced by Sakthan Thampuran, the Maharaja of erstwhile Kochi state. Celebrated in Medom (April-May) the festival parades the fulgent faces of Kerala culture. With every passing year Tthrissur Pooram, the temple festival, attracts large masses of devotees and spectators.
Of the groups displaying their artistic prowess in the Pooram, the prominent are Paramekkavu and Thiruvambadi. When Paremekkavu and Thiruvambadi vie each other for their best performance, the connoisseurs of festivals are blessed with the rare chance to enjoy Kerala's art and culture.
These temples organise impressive, awe inspiring processions starting from Krishna temple and Devi temple. On the day before the closing of the pooram the groups enter the Vadakumnatha temple through the western gate and come out through the southern gate to parade themselves, face to face.Caparisoned elephants and the exchange of parasols are other virtual feast to eyes.
The hours-long dazzling fire works submerge the Thrissur city in an ocean of colour. The consummate pyrotechnics exhibited by the two temple groups paint the Thrissur sky with flamboyant pictures. What unfurls in the dark sky will be a rich tapestry.
The marvelous as well as magical effect of the Panchavadyam, a combination of five percussion and wind instruments, is to be felt and enjoyed.
Although this grand festival is known as Thrissur Pooram, it is in fact the conclusion of the eight day Utsavam of nine temples.
The commissioning of elephants and parasols is done in the utmost secrecy by each party to excel the other. Commencing in the early hours of the morning, the celebrations last till the break of dawn, the next day.
Stay updated
Subscribe to our newsletter to get early notifications of our great offers and promotions!